Post by Hana Matsuoka on Sept 19, 2014 2:20:27 GMT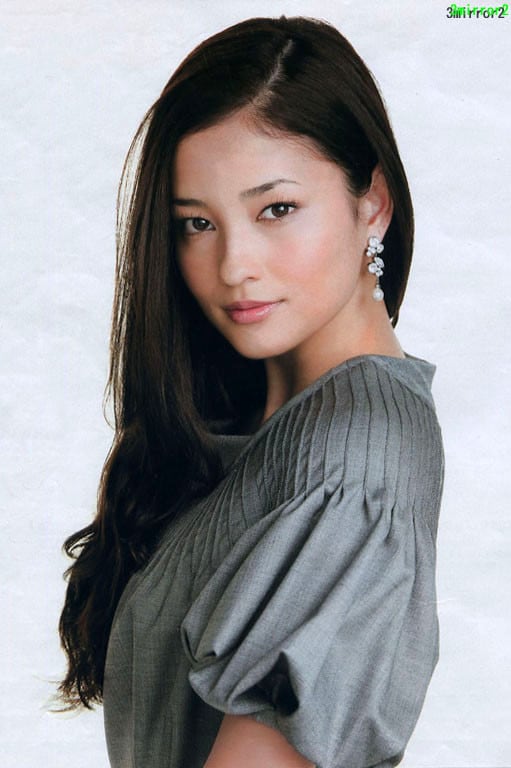 The BasicsName:
Hana Matsuoka
Age:
28
Sex:
Female
Species:
Human
Date Of Birth:
May 10, 1988
Nationality:
English-Japanese
Hometown:
Kosaka, Akita, Japan
Occupation:
Part-time business woman, full time wizard and spiritual medium
Alignment:
Good
Theme Song:Outer StuffFace Claim:
Meisa Kuroki
Height:
5'5"
Weight:
"Ask again later"
Hair color:
Black
Hair style:
Straight
Eye color:
Brown
Skin color:
Asian
Posture:
Professional
Scars/ Tattoo's/ Other markings:Accessories:
Diamond earrings inherited from her grandmother, a silver pendent inherited from mother and briefly worn by her sister
Clothes:
Blue business suit, high heels
Anything Else?Inner StuffLikes:
Success (or at least she thinks she does)
Having a day off
Shopping (always brightens her mood)
Dislikes:
People screwing with the balance between life and death
Rap music
Running in heels
Strengths:
She can see (and talk to) dead people.
She can sense Phantoms and other denizens of pure dark magic.
Knows some Judo, fencing, and Kendo
She excels in the business world, but not always in the people world.

Experienced as a Mage.
Weaknesses:
She tends to run out of mana quicker than most.
She tends to lose control over herself when she drinks even a tiny bit of alcohol.
She can't turn off her ability to communicate with spirits and are constantly harassed by them.
She tends to misplace rings, like a lot.
Goal(s):
Locate and train any hopeful Mages
Destroy any Phantoms
Help wayward spirits
Habits/ Quirks:
Flips her hair as she departs, as her way of saying goodbye

When she reads she has a pair of reading glasses she puts on. She doesn't need them to read, she's just imitating her sister.

When scared or otherwise intimidated, she clenches the part of her shirt where her Mother's necklace is beneath.

Relationships:Overview:
Hana Matsuoka was a carefree party girl who wants nothing more out of life than to have fun and shop. She didn't like working and she didn't like responsibility. She became this way after all the pressure her parents put on her to get through college which she dropped out of after only a semester.
After the deaths of her sister and her mentor, she finally decided to buckle down and get serious with her life. She puts on this rather icy exterior, but deep down she is quite compassionate and still retains a bit of the old Hana (like feeling the need the shop till she drops on occasion).
Hero StuffName:
Kamen Rider Shaman
Type Of Hero:
Wizard Rider
Henshin Device:
Shaman Driver (like the Wizardriver except the hand is white with a red rim and the belt itself is black) and Spirit Ring
Henshin Sequence:
Hana summons the Shaman Driver with the Driver On Ring and then scans the Spirit Ring with the call "Spirit, Understand?" before two red magic circles appear in either side of her, envelop her body, and form her armor.
Forms:
Form Name: Spirit Style
Image/ Description: Looks like the typical White Wizard except the hood is more round, the yellow lines are blue, and the entire robe is embedded with red prayer beads. The visor is a much larger red sphere.
Motif: Shaman, Spirit
Color Scheme: White, Red, Blue
Transformation: See above
Fighting Style: Shaman is the definition of squishy wizard. She's got tons of fancy magic tricks, but is rather weak offensively and defensively. She wields her blades hilts up, blades down.
Weapons: Jade Tsubasa - twin jagged short swords made of pure jade embedded with large red spheres on the tip of each hilt.
Abilities: Slightly higher stats, the use of Magic Rings
Finisher(s): Red Vibration - Summons a red magic circle that positions itself in front of the target. Shaman then strikes the circle with her sword hilts causing powerful strikes to vibrate through the target's spirit, further weakening it. As Shaman continues to strike, the blades of her sword become enveloped with a white fiery energy before finally finishing off the opponent with a dual slash.
Other Equipment:
[/i]: Summons the Shaman Driver.
Spirit
: Transforms Hana into her rider form. Scanning it again allows Hana to take on a purely spirit form where she is entirely intangible but is unable to touch anything. Staying in this state for too long will cause Hana to lose her grip with the physical world.
Vanish
: Hana becomes invisible for a short time.
Engage
: Allows Hana to enter a Gate's Underworld.
Defend
: Erects a crimson spherical barrier over Hana's body. Protects her from non-physical attacks only.
Mist
: Surrounds the area in a blinding mist.
Trap
: Allows Hana to summon a similar spherical barrier to trap the enemy. It can be shattered easily from the outside, but not the in.
Teleport
: Allows Hana to teleport over short distances. The longer the distance the more mana is drained.
Psychokinesis
: Allows Hana to move objects with her mind as well as levitate her own body.
Swap
: Allows Hana to swap spirits with another person or between two others. This effect is only temporary.
Bind
: Conjurers a spiritual chain, not a physical one, to bind spirits and other astral beings. Becomes a physical chain if used in the Underworld.
Connect
: Instead of connecting two physical distances, it instead connects two spirits, allowing Hana to communicate with another telepathically.
Assist
: Allows Hana to absorb the knowledge, skills, and abilities of a willing spirit for a limited time.
Absorb
: Allows Hana to consume spirits in order to increase her own mana. Is the only ring she refuses to use, but still hangs onto.
Cloud
: Summons a big soft fluffy cloud. Could be useful, I guess?
Finale
: Allows Hana to perform her finishing attack to defeat a weakened foe.
[li]
[/li][li]
[/li][/ul]
History
Daughter of a responsible Japanese man, and a courageous and very caring young woman from England, Hana was unaware for the longest time of the existence of magic in the real world--led to only aspire for its existence in her early childhood from the tales of magic and creature her mother would tell to her. She was raised quite normally alongside her older sister, Rikka, despite how hard-working their parents were. While Rikka acted as the "second lady of the house," Hana lived a life free of responsibility. She had no goals or ambitions, over than to shop and party.
This didn't fly well with her hardworking parents, especially her mother, who wanted Hana to succeed in life. Hana didn't want to displease her mother so she agreed to go to college after graduating high school and try her best to gain a decent career.
When she was 16, her mother passed away due to illness. It was hard on her. Blinded with tears, she promised her mother she would succeed in life and make her proud. She tried extremely hard in school and eventually did get accepted to a decent college. The stress though was too much for her and she eventually dropped out after a single semester.
She returned to her old carefree party girl ways, but even more so. She would often wake up in some guy (or girl's bed) completely wasted. Her father, who still put up with her in his house, was worried about this self destructive path she found herself on.
She tried to carry on, but she found herself falling deeper and deeper into her own despair.. The only thing that kept her tethered to the world of hope was her sister Rikka. When her sister died in an accident when Hana was twenty, all hope was lost. Cracks formed across her face and a long sleeping monster had begun to stir inside of her.
As if she was a guardian angel, a robed woman appeared and saved her from herself. The woman was a mage and she told Hana that she too had the potential to become like her. So Hana then became the woman's apprentice. After learning to control her inner Phantom, she discovered she had the ability to communicate with the deceased, a rather rare gift in the world of magic.
Hana's master was killed by Phantoms right in front of her eyes. This time she would not let herself succumb to despair. She gritted her teeth and went on with her life, her mission. Using the Driver and Rings crafted just for her by her master, she set out into the world as Kamen Rider Shaman.
OOC StuffAnything Else: OOC Name:
Quetz
Name Color:
White
Number Of Stars:
5
Color Of Stars:
Red