Post by Mayu Inamori on Nov 6, 2014 4:30:15 GMT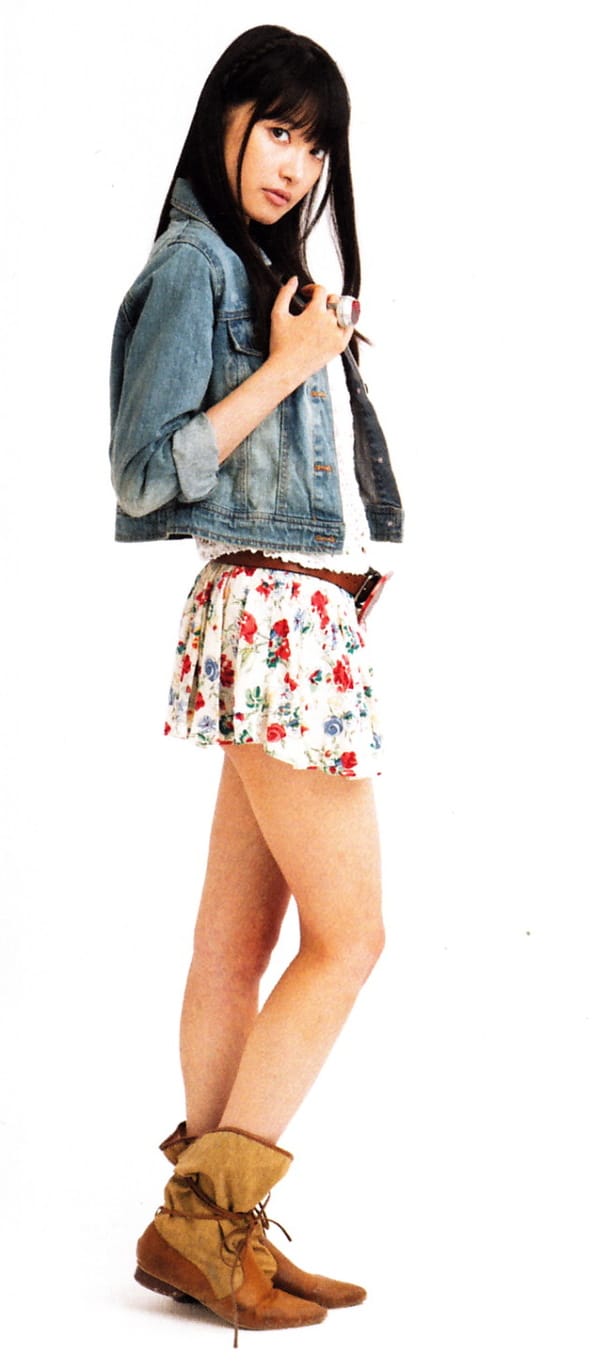 The BasicsName:
Mayu Inamori
Age:
19
Sex:
Female
Species:
Human / Mage
Date Of Birth:
06/01/1995
Nationality:
Japanese
Hometown:
Toriizaka ward, Tokyo
Occupation:
New mage, model, singer and maid.
Alignment:
Chaotic Good.
Theme Song:Outer StuffFace Claim:
Nakayama Erina
Height:
168 cm
Weight:
Doesn't talk about her weight.
Hair color:
Brown
Hair style:
Long and flowing, tied up
Eye color:
Brown
Skin color:
light tan.
Posture:
Shy and demure, though confident.
Scars/ Tattoo's/ Other markings:
Bears a myriad of scars from her "experience" and is insecure about them
Accessories:
Her rings, one of which uses her smartphone.
Clothes:
Her old school uniform, which she still fits in, a couple of outfits with blue jean vests as the theme, an outfit with a white vest, black patterned shirt, white undershirt and skirt, with blue jeans and black boots. She can don other outfits with her magic.
Anything Else?
She's seen and done some things Also an expy of my popular tumblr character. Having a sentient Phantom inside of her increases her body heat by a small margin, making it harder for her to get cold, to get drunk, increasing her physical strength and endurance, and partially responsible for the abs on her stomach. This will also be responsible for slowing her aging.
Inner StuffLikes:
Plain sugar donuts
Singing and dancing
Bringing hope to others
Being empathetic and trying to prevent others from going to despair
Being a mage.
Dislikes:
Phantoms
Other monsters
Other kinds of donuts
Things that remind her of the tragedy that happened to her
Misconceptions about magic
Gender discrimination, or sexism
Strengths:
A mage with expanded potential
Is doggedly determined to do what she sets her mind to do
Her personality is good for the most part.
Has trained exceptionally well physically
Weaknesses:
She doesn't appreciate some of her old callings like she used to. Too many bad memories.
Her Dragon sometimes gives her headaches
Hasn't figured out a way to wiggle out of chains yet.
She's getting tired, her fire is flickering so to speak.
Goal(s):
Live in this world, and continue the work she's done for so many years.
Habits/ Quirks:
- brushes her bangs out of her eyes sometimes -
Relationships:
The White Wizard - Sou Fueki, deceased
Misa Inamori - also known as Medusa. Mayu defeated her in battle
Her mother and father - dead
Haruto Souma - her senpai
Overview:
Mayu Inamori is a high-school graduate who has been through a hell of an ordeal. Losing her sister to a dark ritual, losing her family to her monster sister. Using the Holy Ring and a new form, she was able to defeat that sister, but she is still rather inexperienced. A good person at heart, she doesn't want the tragedy that happened to her to happen to anyone else.
Hero StuffName:
Kamen Rider Mage (Dragon)
Type Of Hero:
A mahoutsukai and Kamen Rider
Henshin Device:
Driver On Ring, Mage Driver, Change Ring.
Henshin Sequence:
1
2
3
4
5
6
Forms:
Form Name: Mage Style
Image/ Description: Mage Land Style Wind Style Water Style Fire Style
Motif: Mage
Color Scheme: Orange, tan, black, and silver.
Transformation: See above
Fighting Style: A mage's fighting style, elegant, flashy, a lot of kicks and submission holds.
Weapons: WizarSwordGun, Rider Scarper, Scratch Nail claw gauntlet.
Abilities: Mage Rings.
Finisher(s): Mage Kick - Finale Ring.
Special Finishers.
Explosion Spell.
Form Name: Shine Style
Image/ Description: Shine Style Credit to Riderb0y the original artist
Motif: Holy, Shine, Mage
Color Scheme: Gold, black and red
Transformation: Uses the Shine Ring and shifts the Driver before scanning it. It says "Shine, Now.", and a manipulative bright gold Mage seal appears, with an inner circle of writing surrounding the original center, scrolling over her.
Fighting Style: Powerful, graceful, elegant.
Weapons: WizarSwordGun, RiderScarper, A brighter, purified Hamel Cane, and the MageBlasters, twin under / over mounted guns that fire gold bullets, and these can extend into the Shine Caliburs, twin arm-mounted blades that have a handle for her to hold on to. Also the Drago Timer, which summons the four original Mage forms to act independently.and form a short lived Mahou Sentai Wizardrenger.
Abilities: Mage Rings, control of the four elements, plus the Holy element.
Finisher(s):
Form Name: Eternity
Image/ Description: 37.media.tumblr.com/fa25f8fed9e2b06b5bdde736199b9bb1/tumblr_n3r78rIUF01sntmfko1_250.png
Motif: Eternal, Everlasting, Infinite.
Color Scheme: Silver, gray and gold
Transformation: She uses the Eternity Ring with her Driver, and it shouts out, "Eeeeternity, Now!" The silver and gold spell seal scrolls up her body, a blue aura dragon swirling around in the resulting magic pillar that appears and then ceases, revealing her armor.
Fighting Style: Good at all forms of fighting.
Weapons: WizarSwordGun, Hamel Cane, Dragon Axe.
Abilities: If she stands still, her body hardens, making her invincible for a number of seconds. Scanning her ring enables her to go at high speed comparable to Clock Up for a short time. Also has the Mage Rings.
Finisher(s): High Touch, Shining Strike: Where the Axe grows to a large size and then slams down on the opponent.
High Touch, Plasma Flare Strike: Where the Axe is controlled via Telekinesis, Den-O style.
Eternity Kick: Finale.

Other Equipment:
Machine Winger - Her bike
Plamonsters - Has a full set, White Garuda, Unicorn, Kraken, Kerberos and Golem
Crystal Ball - She doesn't use it often, but its an alternate way for her familiars communicate with her
History
Mayu Inamori was born in Tokyo to Japanese parents, with a twin sister Misa. They were working class, and she was raised normally, as more of a feminine inclined girl, taught to be polite and everything like that. When she was about 14 or so, she was encouraged to go abroad and study, and thus participated in student exchange programs, studying in the Britain, Brazil, France, and Germany, subsequently learning those four languages, English, French, Portuguese and German. While she was abroad, she matured into a lovely young lady, who developed dancing and singing talents, a high intellect, and even worked as a maid. The families she stayed with, in retrospect, were kind of lucky choices for her, treating her well.
Two months before her 18th birthday, she returns to Japan, and finds out the grisly truth. A solar eclipse had happened, and her mother and father were dead, killed by their own daughter...her twin sister Misa. Misa had been turned into a Phantom by this dark ritual, and had murdered her parents, trying the same thing with Mayu and almost succeeding.
Having gone through excruciating pain, Mayu is saved by her sister's spirit, and survives, suppressing the Phantom inside of her. Medusa seeks to kill her, but she is rescued by a White Wizard, and trained. She meets new people during this timeframe, and returns as a Mage , battling her sister multiple times, until finally defeating her after realizing she was too pure to steal a ring...
After an intense battle, she had Medusa beaten, vulnerable before her, but her sister's spirit appeared to her again, and counseled her that her hands were not meant to kill, they were not meant for revenge. They were meant to protect and heal. She assured Mayu that closure had been obtained. Reluctantly, Mayu spares her sister's life, having wanted to return her to normal, but being unable to do so. It worked out in the end though, as the Chief of Phantoms had appeared, and stolen Mayu's kill.
He disappeared without a word...and now she could move on with her life. She made a lot of friends in the idol world, and eventually came to the attention of a few people. Like an Empress..and a technically more experienced mage.
OOC StuffAnything Else:
Other forms include Shine Style All Dragon, which is the same thing but with the dragon head, gauntlets, Tail and wings, and Eternity Style All Dragon, the same. To start out with, she didn't know a lot about herself, but she has discovered a great deal. Including the fact that she is bisexual. Her Dragon Phantom is a female, with blue and silver as the color scheme, Diamonds are her gems, and otherwise she is aesthetically similar to the WizarDragon. Has a personality, and talks.
OOC Name:
Rei
Name Color:
#E6E68A
Number Of Stars:
Four
Color Of Stars:
Orange