Post by Miu Kazashiro on Nov 19, 2014 4:55:37 GMT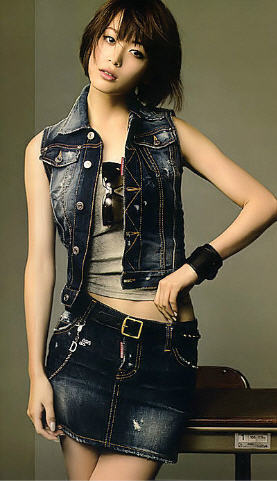 The BasicsName:
Miu Kazashiro
Age:
18
Sex:
Female
Species:
Human
Date Of Birth:
December 16, 1996
Nationality:
Japanese
Hometown:
Saga
Occupation:
AGHS Student, School Idol, Head Cheerleader
Alignment:
Herself
Theme Song:Outer StuffFace Claim:
Rikako Sakata
Height:
167cm
Weight:
"Sends your ass into space for asking."
Hair color:
Brown
Hair style:
Short
Eye color:
Brown
Skin color:
Asian
Posture:
Elegant, bitchy
Scars/ Tattoo's/ Other markings:Accessories:Clothes:
Her AGHS or Cheerleader Uniform
Anything Else?Inner StuffLikes:
Being beautiful
Being on the top
Being worshiped
Dislikes:
Trash (aka everybody that's not her)
Things more beautiful than her
Wrinkles
Strengths:
Fit thanks to Cheerleader practice
A surprising diligent hard-worker in whatever she sets out to accomplish
Straight A student
Weaknesses:
Obsessed with her own beauty
Sees other humans being as nothing more than lowly trash
She can't stay in her Zodiarts form long/burns out her power quickly
Goal(s):
Be the most beautiful thing in the universe
Habits/ Quirks:
Says "Opps" whenever she's mocking somebody.
Relationships:Overview:
Miu is fully convinced that she was born to be the most beautiful thing in the universe as, by her reasoning, that since beauty undeniably exists, other things most be more beautiful than others. She is the ultimate queen bee with her cronies and a fanclub more than ready to sing her praises. She won't stand for anyone else shining more brilliant than her and will do anything to destroy their reputation (even if it means outright destroying them).
Monster StuffName:
Virgo Zodiarts
Type Of Monster:
Zodiarts
Henshin Device:
Zodiarts Switch
Henshin Sequence:
She presses the Switch causing her mind to separate from her body and take physical form, leaving her body a hollow shell. After first pressing the Switch, her Zodiarts body forms anywhere in a five hundred yard radius. The longer she's separated from her physical body, the higher chance of it going into critical condition.
Forms:
Form Name: Virgo Zodiarts
Image/ Description: Here
Motif: Virgo, angel
Color Scheme: Pink, White, Black, Gold
Transformation: See above
Fighting Style: Can surprising hold her own in a fight, psychically or not. Likes to toy with her opponents instead of quickly finishing them off.
Weapons: Rhodia, her halbert
Abilities: Increased Stats, Flight, Teleportation, Can create a barrage of razor sharp feathers to attack or for a quick distraction, Can create a cosmic energy barrier around herself, Her main attack are condensed balls of cosmic energy that function as black holes that send anything that comes in contact to into an empty pocket dimension called the "Dark Nebula" which she can travel to and from to whenever she wants
Finisher(s): She either cuts them into pieces with a barrage of feathers or traps them into the Dark Nebula, never to be seen again
Other Equipment:
History
Miu's mother was a famous model while her father was a renowned photographer. Miu grew up surrounded by beauty, but nothing was more beautiful than her older sister. She was strong, she was smart, she was popular, she was everything Miu wanted to be. Even if Miu wanted to take another path, it was already long expected for her to continue on with the family legacy, she was born to be beautiful.
Miu worked hard and was accepted to AGHS. A week after her entrance ceremony, she received the shocking news that her sister had been involved in a car accident. She survived, but wouldn't be able to walk again. She was broken and her light had faded, it was finally time for Miu to step in and take her rightful place.
She quickly rose to the top of the high school food chain and became its "Queen" with her own cronies to carry out her every whim. Sure, there were challengers here and there, but Miu always came out on top.
It was during her third and final year when she realized it was entirely possible that all of this could come to an end sometime. All the love, all the attention. She couldn't possibly let it go. It was then that a cloaked figure appeared before her offering her the power to grasp hold of her own fate. She had been chosen by the very stars themselves to lead a glorious revolution of light. She was going to use this power to go beyond AGHS and become idol of the world.
OOC StuffAnything Else:OOC Name:
Quetz
Name Color:
Pink